Our organization offers a qualitative range of OPD Examination Couch that are available in varied specifications. These products are applicable to be used for various kinds of medical and diagnostic needs.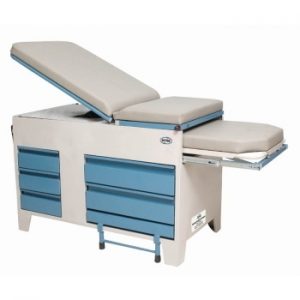 Examination Couch Motorized Head Raise
Overall size : 185(l) x 61(w) x 810(h) cms
Three sections top.
Motorized back-rest adjustment
Fixed pelvic section
Telescopic leg section
5 utility drawers
Integrated retractable step stool
Fixed mattress with cover thickness: 60mm
Optional accessories
Lithotomy poles
Additional Information:
Examination Couch Motorized Height Adjust
Overall size : 183(l) x 61(w) x 46-84(h) cms
Single section top with motorized adjustable height
Lowest height enables easy access to the patient
Once the patient in onboard the height can be adjusted to the most convenient position for the examining physician.
Fixed mattress with cover thickness: 60mm
Additional Information: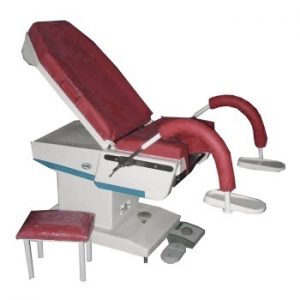 Gynae Examination Couch Deluxe Motorized
Electrically operated functions operated by separate detached foot switch.
Heavy gauge ms construction. Powder epoxy finished.
Base and column covered with smooth, elegant, easy to clean & rust free moulded thermoplastic.
Citted with castor wheels with central floor locking system.
Two sectional top covered with two sectional seamless mattress covered with fire retardant vinyl.
Perineal cut for gynecological examination and diagnostic procedures.
Provided with additional leg plate which can be manually fitted to the couch in horizontal position, also fitted with mattress.
Fitted with tray retractable on telescopic channels.
Provided with stainless steel side rails to fit the accessories.
Inbuilt paper roll container.
Electrical operated adjustments
Height adjustment - 64 to 94 cm (approx. )
Back section adjustment - +65° to -10° (approx. )
Trendelenburg and reverse trendelenburg - 10° -- 65° (approx)
Technical details : Overall length in horizontal position
With leg plate - 177 cm (approx. )
Without leg plate - 129 cm (approx. )
Seat and backrest width - 57 cm (approx. )
Load bearing capacity - approx. 200 kg. (approx. )
Accessories : Anesthesia frame - 1 no.
Arm rest with clamps - 1 pair
Arm rest together with footrest - 1 pair
Knee crutches with foot stirrups - 1 pair
Paper sheet rolls - 3 nos.
Waist side handles with clamps - 1 pair
Additional Information: